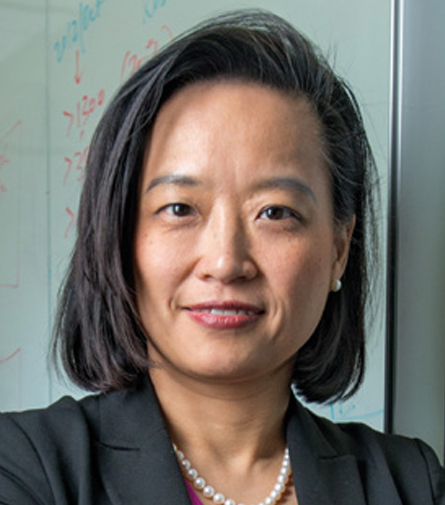 Lynda Chin, Co-Founder and CEO
"Technology is undoubtedly a necessary tool in the modern-day healthcare world. But once it enables you to gather necessary data, it is on your expertise to provide the right care," begins Lynda Chin, Co-Founder and CEO, Apricity Health.
Over the last 50 years, our understanding of the biology of cancer has grown significantly, and it will continue to grow at a rapid pace moving forward. From new types of targeted treatments to novel therapeutic approaches and an array of robust technologies, the medical community has made continuous efforts to improve the way doctors diagnose, treat, monitor, and improve cancer patient outcomes. In the past year alone, treatments were combined in new ways, and optimal dosing and scheduling were identified for existing treatments. This played a vital role in significantly reducing the incidence of unwanted reoccurrences— indicative of the fact that we are on the right track. Even so, studies estimated 1.8 million new cancer cases diagnosed and 606,520 cancer deaths in the U.S., just in 2020.
So, where are we going wrong?
For the uninitiated, there is no straightforward cure for cancer and the existing treatment options come with their own set of challenges and side effects. Take chemotherapy, for instance. While the treatment is effective in most cases, it poisons the blood, hair, skin, and the lining of the intestinal tract. There are similar issues with immunotherapy as well. In certain cases, the immune system itself attacks healthy cells, causing side effects such as skin reactions, fever, chills, weakness, nausea, diarrhea, hormone changes, and more.
What makes matters worse is that patients can develop these reactions at any given moment. Regardless of how often they meet with their specialist—once a week, month, or a year—the risk remains the same. This clearly highlights the need for continuous patient monitoring. And the answer lies in a technology that's been around in the chronic disease management space for many years— Remote Patient Monitoring (RPM).
The first wave of RPM technology essentially focused on three fundamental concepts: monitoring patients with chronic conditions using digitally-connected health devices, facilitating timely interactions between clinicians and patients at home or anywhere outside a clinical care setting, and more recently, offering a single, secure platform to collect and share data from the patient to provider. This model can improve the timeliness of clinical intervention and the convenience of accessing care. However, it does not address the challenge of clinical expertise or lack thereof.
Take oncology, a highly specialized complex disease, it logically follows that, in addition to technology that enables the monitoring and information sharing, we also need healthcare professionals with the right expertise to respond and treat appropriately based on that information.
For example, patients undergoing cancer treatments might develop symptoms that are due to their cancer treatment or reflect the progression of their underlying cancer disease, but to healthcare professionals who may not be experts in oncology, they might be confused with common cold symptoms or food poisoning, etc. In the words of Lynda, "It is now about having the oncology expertise to realize the benefits of technology."
Apricity Health aims to address this particular need—making oncology expertise accessible conveniently via the cloud.
Created by renowned physicians and scientists who are passionate about improving health for all people, the company is on a mission to provide patients with convenient and affordable access to personalized precision care by cancer experts, regardless of where they are. Apricity Health brings the level of intensive monitoring and standardized precision care characteristic of a clinical trial to routine care for all cancer patients. During a typical clinical trial, every patient/participant is constantly monitored by specialty experts and clinical leaders. Moreover, standardized, evidence-based protocols to manage any side effects are followed. In real-world care, there is not sufficient trained resource to provide that level of monitoring; additionally, there is unevenness across practicing providers in terms of their experience and expertise.
Therefore, consistency in management is challenging. To this end, Apricity Health "employs" digital and AI technologies to harness real-time patient data and world-class specialty expertise to empower better cancer care everywhere. The solution essentially encompasses three major components: technology, expertise, and people.

ApricityRx is a HIPAA-compliant end-to-end digital solution hosted on AWS with both patient-facing (ApricityCare™) and provider-facing (ApricityOncology™) apps. It is a clinical decision support (CDS) system integrated with remote patient monitoring (RPM) and embedded with omni-channel communication via messages/audio/video. It supports an extended or virtual oncology team to remotely monitor cancer patients on therapy to detect early signs and symptoms of treatment-related adverse events. ApricityRx collects PRO (patient-reported outcome) data, including biometrics and self-reported symptoms.

Its CDS continually screens these data to look for signals of adverse events, maps to CTCAE v5.0 standard and prioritizes urgency to intervene based on clinical experience, then activates the care team to respond conveniently using its embedded communication channels while providing instant access to context-specific recommendations based on consensus guidelines that are curated by clinical experts. This aims to level-set unevenness in the experience of a general practice care team. ApricityRx is interoperable with most electronic health record (EHRs) systems and creates a closed information loop between networked EHRs.

The patient-facing ApricityCare app can be accessed via the web or downloaded onto iOS or Android mobile devices. In addition to a daily survey of pertinent signs and symptoms, the ApricityCare app supports tracking the frequency of selected symptoms, such as diarrhea; monitoring adherence to key medication (selected by clinicians) for that patient; access to a custom-developed educational video about treatments and side effects; multiple ways to connect with the oncology team, as well as on-demand generation of patient's cancer history synopsis with relevant recommendations for sharing with healthcare providers outside of the oncology team.

The provider facing ApricityOncology portal organizes longitudinal and summarized views of patients' pertinent clinical histories, analyzing PRO and routine clinical lab results for signals of adverse events. When an abnormal lab result or a symptom is detected, it will prioritize it to Red/Orange/Yellow/Green levels in real-time for the oncology team to review and respond.

With secure video, oncology care providers can schedule and initiate video sessions with patients for evaluation and management, empowering timely and convenient intervention to mitigate progression. Along the care pathway from triage to treatment, ApricityOncology presents expert-curated guidelines-based recommendations that are generated by ApricityRx's CDS engine and tailored to the specific patient context. Providers can also input structured and free-text documentation of their encounters with the patients, which is automatically converted into templated encounter notes and sent back to the Progress Notes in the EHRs.

In addition to minimizing documentation burden, this feature improves the consistency and completeness of documentation for charting and billing purposes. Along this line, ApricityOncology is designed to capture shared decision making easily with simple clicks when patient preference or access barriers are factored into clinicians' management decisions.

Accounting for real-world practice patterns (where there is no clinical trial protocols dictating practice patterns) is necessary when real-world patient data is used in the assessment of treatment effectiveness or discovery of predictive biomarkers.

"With activities of patients and their care teams coordinated based on the right data at the right time in context of up-to-date clinical knowledge, ApricityRx enables earlier detection and timely intervention to mitigate treatment-related adverse event, better patient engagement to empower shared decision making, and better quality and experience of care with continuity of data, which will translate into better outcome and more effective treatment," says Lynda.

In addition to its digital technology and clinical decision support capabilities, ApricityRx enables on-demand access to a dedicated triage team that's trained to focus on responding to and addressing potential toxicity in patients. The ApricityCARE for Cancer Adverse event Response feature thus addresses one of the most significant issues that plague cancer care in a real-world setting, namely gaps in care due to knowledge disparity and specialist shortage, especially in medically underserved and rural communities.

In addition, Apricity Health is introducing night float coverage a solution that is designed to help doctors and patients after general working hours. Typically, most of the workforce at a clinical setting go home after their working hours, and during that time, if a patient needs help, they are left with a phone number to someone who does not have all the information to address the problem. "We want to help these patients by giving them a pathway to connect with an oncology expert who is up-to-date with the latest treatment guidelines and knows the cancer history of the patient. Not only does this give patients the confidence that they are being monitored, but offers a layer of support for the doctors as their patients are being managed in accordance to clinical best practice," says Lynda.

With this integrated solution, the company is extending its application to support the increasing complexity of immuno-oncology combination therapy in beyond routine care clinical trials. "By bringing RPM and virtual care capabilities into clinical trials, we can help make clinical trial participation less burdensome, by minimizing number of clinical site visits, while enabling rigorous monitoring from home, thus, making oncology trials more accessible to more patients," Lynda continues. "In addition, we want to help generate data that can drive and develop new therapy to treat immune-related adverse events as well as identify new target[s] for immunotherapy because the majority of patients on immuno-oncology therapy still do not respond."

In a nutshell, Apricity Health is on course to create a new model of oncology care in the communities by integrating RPM and virtual care technology with on-demand access to oncology expertise, empowering local oncology practices to deliver clinical trial level care and ensuring more equitible access to novel therapies and clinical trials.