Justin Kromelow, Founder and CEO
For decades, opioids were considered "the standard of care" for treating chronic pain. This perception changed quickly after the opioid epidemic took center stage. In the 1990s pharmaceutical companies assured the medical community that opioid pain relievers were non-addictive. Healthcare providers prescribed these medications at a high rate to improve patient outcomes, unknowingly enabling the misuse of both prescription and non-prescription opioids. By the time the medical community understood the risks of using opioids, the impact was already significant. Patients who used long term opioid pain relievers or who took high doses were at risk of an opioid use disorder or a drug overdose. According to The National Survey on Drug Use and Health, over 9.9 million people over the age of 12 misused prescription opioids in 2018, and an estimated two million people had an opioid use disorder.
In response to these concerns new guidelines and regulations were implemented to reduce prescription opioids, introduce dosage ceilings, and eliminate opioid refills in favor of requiring a new prescription every 30 days. 60 Million Americans who receive a 30 day or longer supply of opioid medication were directly impacted by these changes, despite the large numbers who had demonstrated long-term benefits from the use of these medications. Many pain specialists and patient advocacy groups became concerned about the negative impacts of this on patient independence and quality of life. Large numbers of patients were being told by their long-trusted physicians that they were being required to lower or stop prescribing opioids immediately.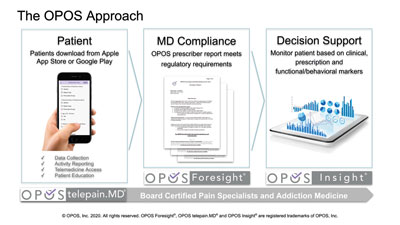 Today, this interface between the legitimate use of opioids and the risk of drug use dependency continues to challenge the clinical community, deterring them from effectively using these drugs to treat pain. Chronic pain continues to be one of the most debilitating and "complex to manage" medical conditions in the U.S., costing the nation around $700 billion a year. The need is for a robust solution that can help the medical community to provide effective treatment for chronic pain patients while ensuring patient access for the legitimate use of opioids.
Focused on addressing this crucial need is OPOS. Founded by a group of experienced healthcare providers, data scientists, information technology experts, and seasoned business professionals, OPOS provides comprehensive opioid solutions that help physicians and patients better manage risks and optimize the outcome of opioid therapy. "We have years of experience in treating chronic pain patients and safely managing risks associated with long term opioid therapies," says Justin Kromelow, Founder and CEO, OPOS.
Since its inception, OPOS has been solely focused on safely maximizing the chronic pain community's quality of life. From its longstanding experience in pain management, the company understands that it is essential to empower chronic pain patients with strategies that can help them fulfill their daily social, vocational and family needs and goals. To do this, the company brings a solution with powerful monitoring capabilities to optimize patients' functional abilities and ensure prescribers' regulatory compliance.
Evolving with the Dynamic Needs
OPOS began its journey in the pain management space with an interdisciplinary team pain treatment model to educate patients, optimize their medications, and help them meet their functional goals. The OPOS team was recognized for incorporating telemedicine into their business model, which allowed the company to expand its chronic pain treatment and patient education services into rural and underserved areas that had no access to pain management resources.
Practices can use our advanced patient monitoring application to identify each patient's unique functional needs, monitor their progress, and measure effects on their productivity
OPOS next aligned their business model to enable patients and providers with the ability to manage the new demands of the highly regulated landscape. OPOS identified several continuing challenges faced by the medical community and patients. The regulations intended to reduce illicit use of opioids eliminated refills for the most commonly prescribed opioids forcing physicians to examine patients each month and write a new 30 day prescription. Patients have to frequently visit the physician's office, which is no easy task. Primary care providers typically get eight minutes of patient contact time during an appointment. Complying with CDC and state medical boards' guidelines within this timeframe is close to impossible.
After the appointment, patients experience delays and denied access to opioids each month, as insurance companies and pharmacies ask for large amounts of clinical information prior to filling patients' prescriptions. The burden of providing all of the information to the insurer and pharmacy falls back on the physician's office, adding to the delay and increasing cost and complexity for the practice.
Many providers feel safer eliminating opioid prescriptions, so that they don't have to deal with the regulatory risk and increased workload burden. Physicians have been attempting to refer these patients to pain specialists, who are already overwhelmed with managing their own chronic pain patients and steadily increasing flow of referrals. These hurdles threaten patients' access to treatments that have been effective and risk patients' ability to engage necessary health care. Responding to these challenges, the OPOS platform ensures providers can offer safe and effective opioid care. It equips physicians with all the necessary information and documentation required by the CDC and state medical boards and plays a vital role in educating patients about the effects of opioids.
All-Inclusive Solution Suite
Designed to maximize quality of life, OPOS' platform is a combination of two robust applications. The primary and the most important tool is OPOS Foresight, a mobile application that provides opioid prescribers with documented evidence of adherence to CDC, state, and medical board guidelines and regulations. "Practices can use our advanced patient monitoring application to identify each patient's unique functional needs, monitor their progress, and measure effects on their productivity," says Kromelow. This information helps physicians determine the benefits patients receive from opioid therapy, enabling them to save hours spent with carriers and pharmacies getting opioid prescriptions approved. Patients can consistently get their prescriptions and effectively manage their pain. OPOS Foresight provides patients with access to education programs that help them understand the available non-opioid therapies/treatments, as well as the potential harms and impacts of opioid use.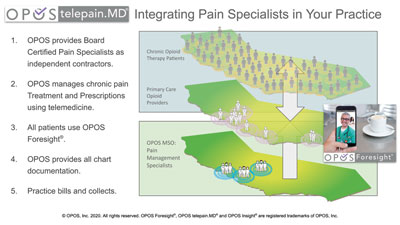 To align well with the growing need for virtual healthcare delivery, OPOS provides an advanced telemedicine service, OPOS telepain.MD, that can be combined with OPOS Foresight to bring the service of qualified board-certified pain specialists to patients, through their primary care providers practice. By allowing practices access to pain specialists, the OPOS platform provides patients with the best treatment from their long-trusted providers, with the support of pain specialists integrated within their practice.
Practices that utilize OPOS solutions experience increases in new revenue associated with the services rather than generating new practice expense and overhead. To help support practices, OPOS deploys a team to onboard and support patients, and address usage and technical issues, enabling the practice to focus on healthcare delivery.
In a nutshell, OPOS serves as a reliable partner, helping practices improve patient satisfaction, enhance safety, deliver new, high-quality revenue streams, and mitigate the risks associated with opioid prescribing while simplifying management of a complex patient population.
One-of-its-Kind Risk Stratification Model
What gives OPOS an edge over the competition is its proprietary risk stratification model, where the company analyzes practices' clinical data to categorize patients according to risk as defined by the CDC and state medical boards. By leveraging this model, OPOS helps physicians by streamlining services for Low-Risk patients, enabling them to give more care and allocate pain specialty resources to patients with the greatest need, who are more prone to intractable pain and functional disability. Unlike conventional models that lack monitoring capability, the OPOS model enables practices to take an individualized patient-specific approach in delivering care with the ability to have a deep understanding of each patient's needs.
"We have years of experience in treating chronic pain patients and safely managing risks associated with long term opioid therapies"
Imagine for example a chronic pain patient suffering from depression, a common comorbidity of chronic pain and side effect of long-term opioid usage. Being able to identify progressive depression symptoms through monitoring, OPOS can immediately get the physician to help the patient manage this depression, instead of waiting for the next appointment which could be weeks away. Furthermore, OPOS supports an ongoing dialogue about maximizing a patient's functional capability. Allowing practices to interact with patients to document the unique value opioids provides is critical to demonstrating the effectiveness of opioid-based pain management strategies for each patient.
OPOS risk stratification considers the dynamic relationship of treatment efficacy, patient function, quality of life, potential harms, regulatory compliance and prescriber risk/liability. The ability to examine and re-assess these factors in real time is critical for organizational risk management. Risk management of opioid prescribers and the chronic opioid therapy patient population is a continuous process.
Thinking Ahead of Time
The pandemic has had a massive impact on healthcare providers' operations and financial stability. However, the innovative technology that OPOS brings to the table helps practices thrive during such tough times. The platform's monitoring capability allows care providers to have visibility into patients' functional progress and health conditions without their regular in-person appointments. OPOS's telemedicine capabilities also allow providers to successfully treat more patients and keep their revenue streams growing.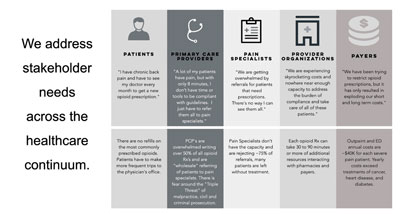 Having such a powerful value proposition has helped OPOS gain significant growth during the pandemic and the company anticipates the same in the post-pandemic world. OPOS is planning to enhance its solution's capability to cater to controlled substances beyond opioids. Further, OPOS's innovation lab is working toward developing OPOS Insight, a digital therapeutic platform that can leverage the power of its huge data repositories to help physicians make individualized patient-specific decisions. By developing this AI-enabled care lens with the capability for real-time risk prediction, risk stratification, as well as objective and subjective patient data analysis, the company intends to provide physicians with care plan recommendations to treat patients, when the treatment changes are the most impactful, rather than being related to scheduled appointments which has been the standard of traditional healthcare. OPOS Insight will have the ability to identify minute changes in patients' physical behavioral patterns, which are imperceptible to human eyes, enabling early-stage intervention for maximum impact on clinical and financial outcomes. "We are on a mission to transform healthcare in a way to help practices identify patients in need of medical resources as early as possible and provide them with resources in the most non-invasive way," concludes Kromelow.