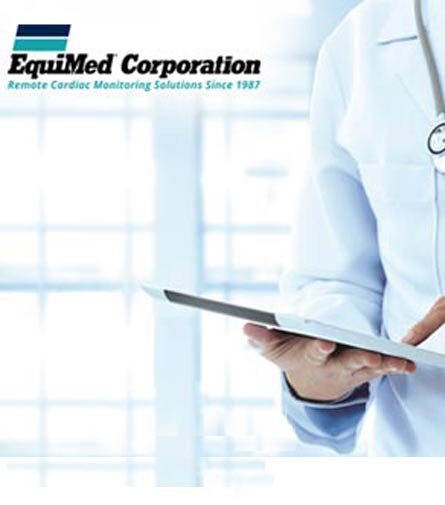 Scott Carlson, Founder, CEO
Remote implantable device monitoring has changed dramatically over the last 5-10 years allowing clinics to deliver a higher level of patient care in a far more timely manner. Healthcare providers are increasingly investing in remote cardiac monitoring to achieve seamless connectivity, improved clinical outcomes, and quicker response to adverse patient events or device issues. However, with staffing levels stretched thin, most hospitals and clinics find it daunting to effectively manage and monitor the health of their device patient population. This is where EquiMed Corporation—the nation's longest operating remote cardiac monitoring center—comes to the rescue. Founded in 1987, EquiMed provides continuous cardiac monitoring with a specialization in implantable device checks. In the early years of remote device monitoring, EquiMed made the decision to provide 24/7 device monitoring and reporting. While the billing codes do not require this coverage, they felt it was in the best interest of the patients for this to be done. EquiMed's decision provides three times the monitoring coverage that a traditional clinic or service provider can offer.
In an interview with the editorial team of MD Tech Review, Scott Carlson, Founder and CEO of EquiMed Corporation, discusses at length how his company excels in the remote management of implantable cardiac devices.
Could you provide a brief overview of EquiMed Corporation?
EquiMed operates as a certified independent diagnostic testing facility (IDTF) approved by Medicare. We undergo rigorous training and certification requirements on a yearly basis. Although there are multiple IDTFs across the country, each of them has different capabilities when it comes to the services they provide. About 15 years ago, EquiMed made the decision to pivot its focus from traditional diagnostic cardiac monitoring to helping patients with implantable cardiac devices. This corresponded with a shift in the industry—while previously patients visited their care provider to get their pacemaker or defibrillator checked, now they have the opportunity to do the same from the comfort of their home. Over time, implantable cardiac devices have garnered the capability to transmit both patient and device-related data in near real-time, enabling doctors to help patients more rapidly. Our primary goal is to keep patients out of the hospital. By monitoring these transmissions 24/7, we are able to get vital information to providers more rapidly. EquiMed is currently the only monitoring service that provides 24/7 monitoring of implantable cardiac devices.
With our services, many healthcare providers realized that remote monitoring would take an enormous burden off their nursing staff and doctors and allow them to focus solely on in-person patient care
Implantable device data is often transmitted late in the evening or early in the morning. This means, during an emergency, the data may go unviewed for a long period of time. In these situations, time is of the essence in order to take adequate care of patients. We make a difference by creating detailed patient reports and delivering them to doctors in near real-time so that they ensure patients get the care as fast as possible.
Even though it is not required, we monitor device patients 24/7 which provides more timely patient care. When life-threatening events occur, every second counts
What is the approach you follow while delivering services to customers?
The majority of our interaction takes place with physicians, nurses and cardiac technicians. Partnering with their organization, we work as an extension of their practice. EquiMed continually monitors every web portal from each device manufacturer around the clock. When we detect device or patient issues, we contact the healthcare providers based on the physician's notification needs. Doctors can choose when and how we contact them to deliver the reports. We can deliver reports directly to physicians, regardless of where they are. This may be via email or even directly into their electronic medical record. The methodologies we have in place for internal processes allow us to manage a large number of clients and data transmissions. Our partnership with each client is unique. Since we offer a non-binding agreement, they can choose to use us as a temporary or permanent solution. There is no cost to the facility or providers for EquiMed to provide these services.
What are the major challenges that healthcare providers faced on account of the COVID-19 pandemic?
As cardiology practices and hospitals remained closed during the pandemic due to lockdown edicts, it became imperative for patients to get their devices checked remotely. Over the last year, we experienced a dramatic increase in the number of new clients seeking assistance. This was also because the Heart Rhythm Society (HRS) issued a COVID-related remote monitoring statement stipulating that all patients, regardless of gender or age, should be monitored remotely. Only those patient devices that need to be reprogrammed or replaced should be seen in the clinic. Additionally, as there is a huge shortfall of qualified nurses, hospitals and clinics were scrambling to find qualified personnel to keep up with the large volume of data transmissions. With our services, many healthcare providers realized that remote monitoring would take an enormous burden off their nursing staff and doctors and allow them to focus solely on in-person patient care.
Could you cite a customer success story?
One of our clients, a large clinic in Florida, was monitoring around 6,000 patients with implantable devices with five full-time device professionals. However, when they lost one of their device nurses to a medical leave, and another quit the practice, they began to slowly fall behind. They attempted to keep up with their patients with just three technicians, which was nearly impossible. After about two months, there were over 10,000 transmissions, which had not been reviewed. This was when we stepped in. We got access to their web portals on a Friday afternoon and began monitoring immediately. Seven days later, we had the backlog of 10,000 transmissions up to date. We continued their monitoring for eight months, which gave them enough time to hire and train new staff. When the client had returned to full staffing levels, we turned the portals back over to them. The following year, the client faced another staffing crisis, falling even farther behind. They contacted us in a panic and we resumed monitoring later that day. The client's administration realized that the monitoring solution that EquiMed provided was a more stable fit. We have now been working with the client for over five years.
What does the future look like for EquiMed?
As more and more cardiac devices are implanted every day, the amount of data transmitted from them will only continue to increase. This is a huge burden on the ever-stressed clinical staffs. For the past 12 months, we have been changing our electronic infrastructure and network architecture to directly access clients' electronic medical records. With the help of our robust servers and integration engines, we are able to monitor thousands of patients per day. We hired a significant number of device professionals and continue to add new clients every week. With our technology infrastructure and onboarding plan, we can start monitoring within a day or two. EquiMed is also conducting research on how remote monitoring prevents heart failure patients from readmittance into a hospital, and we hope to have some of those new studies published in the first quarter of next year.