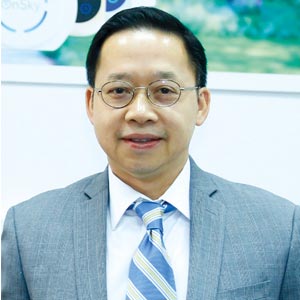 Hung Nguyen, CEO, Founder, and Chief Innovation Officer
Over the years, there has been a steady increase in the demand for telehealth, remote patient monitoring (RPM) solutions, and homecare applications. This has become even more pronounced during the course of the pandemic as these solutions assist patients in interacting with physicians and caregivers from the comfort of their homes while reducing the risk of contracting the virus both by patients as well as doctors and staff. Even though these virtual care methodologies provide some ease and assurance to patients, they fail to provide real-time health indicators for accurate diagnosis. Furthermore, most devices need to be operated manually, which can be increasingly challenging, especially for the geriatric population. Moreover, patients need to continually wear these gadgets at all times, making them extremely uncomfortable while they are resting or even sleeping.
Addressing this challenge is OnSky Health International. The company has excelled in manufacturing cutting-edge medical technologies to revamp the remote healthcare arena. "Our goal is to offer virtual care, remote patient monitoring, and emergency and alert services for the elderly, aging population, homecare, as well as nursing homes," says Hung Nguyen, the CEO, Founder, and Chief Innovation Officer at OnSky Health International.
In conversation with MD Tech Review, Nguyen mentions how the company was founded with the mission to assist caregivers and healthcare providers in delivering intelligent and meaningful care at any time, from anywhere, with its flagship product, the SkyPad system.
What was the passion and inspiration behind OnSky Health?
In the initial days, our company started and stayed as a subsidiary of OnSky Inc., a technology company involved in creating smart homes in Asia. Over the past three years, our R&D team has been working on developing a proprietary, ultra-sensitive sensor technology to redefine the health monitoring landscape. This has resulted in the genesis of the SkyPad system that has gained immense traction among patients and care providers during the COVID-19 pandemic.
At the heart of this product lies our drive to simplify care delivery for our parents and grandparents. A few years ago, I had asked my grandfather, who was 107 years old at the time to wear a health monitoring device so as to keep a check on his vital signs. My grandfather definitely realized that it was important for him but also expressed his discomfort in wearing it while sleeping.
With SkyPad, we are offering an all-inclusive wellness device that delivers non-invasive health monitoring for patients
He further mentioned how he might forget to wear it or charge battery occasionally. That was the impetus I needed to come up with a solution that is contact-free to serve elderly patients effectively.
As a seasoned executive and a serial entrepreneur myself, I decided to create a first-of-its-kind virtual care solution to improve the quality of life and care for the aging population.
Please elaborate on the product that you deliver.
We specialize in developing and manufacturing advanced medical technologies and connected-health products for modernizing remote healthcare and telehealth. Our primary product SkyPad system, combines proprietary, patent-pending sensor technology, and advanced AI and ML. Our proprietary sensor technology coupled with ML helps accurately sense and monitor the users' vital signs, sleep quality, and body movements, all in real-time. Its ultra-sensitivity allows the system to sense, measure, and record their heart and respiration rates via the micro-vibration of the heart and lung, as well as snoring, breathing quality, and other sleep functions without skin contact. Users don't even need to worry about changing the batteries as the system runs on electricity.
Our SkyPad system consists of two major parts — the Sensor Pad and the Health Display. The pad is a thin and flat pad that has our proprietary sensor technology to sense the vital signs and body movements of users continuously and accurately, without any skin contact. The health display, on the other hand, is a Wi- Fi-connected, high-definition LCD touch screen panel that helps users, their family members, and caregivers to access their health status seamlessly. It acts as a communication hub for remotely accessing patients' health data using a mobile app. This empowers the physicians, nurses, and other caregivers to monitor patients' health from any location at any given time. It is equally simple for patients to use as well. The pad can be placed under the user's pillow while lying down or retiring for the day while the health display is kept on the nightstand, which continuously senses and detects their vital signs. With SkyPad, we are offering an all-inclusive wellness device that delivers non-invasive health monitoring for patients.
Going beyond just providing an innovative solution, we also pioneer in emergency detection and alert service (EDAS). It is an optional subscription service that is provided separately from the SkyPad system. This automated cloud-based service enables healthcare providers to continuously monitor and detect any abnormality or changes in the patients' vital signs. If there is a detection of abnormality, EDAS immediately sends alerts and can also make direct calls to the first responders and assigned caregivers. Our EDAS capability is a true gamechanger as it enhances health protection for users by delivering early detection and rapid intervention at the right time to save their lives.
What does the future hold for your organization?
Our primary focus as an organization is to grow our capabilities and deliver more products, solutions, and services to better serve elderly people, patients, and home cares. We are also looking to expand our collaboration with home care operators and build longstanding partnerships to facilitate better care delivery for their end-customers. We are already working with some major organizations in Taiwan, Japan, Thailand, and Vietnam, and we will continue to work toward expanding our outreach. At present, our product can seamlessly measure heartbeat, respiration rate, body movement, and sleep quality. We will soon be introducing additional capabilities to allow it to measure blood pressure.
As an established entrepreneur having over 35 U.S. patents across the course of 30 years, I will continue to invest heavily in innovation and advanced technologies to make SkyPad more meaningful to millions of people across the world.