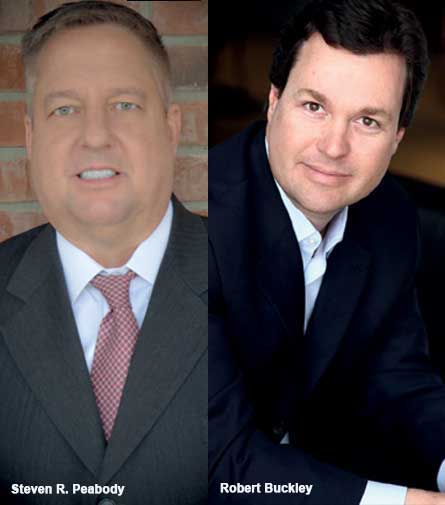 Steven R. Peabody, CEO and Robert Buckley Senior VP, Strategy
Forty five percent of Americans, 133 million of them, suffer from a chronic disease such as diabetes, hypertension or heart disease. In fact 18 percent of the US population suffers from two or more chronic diseases, and treating them accounts for more than 75 percent of US healthcare costs. These patients need regular health monitoring—especially the elderly—as well as convenient and affordable treatment options that enable them to stay independent and maintain their mobility. Addressing this issue, VoCare, Inc. introduces a revolutionary, professional-grade, mobile and connected multi-functional diagnostic device that shares patient data via the cloud, eliminates the need for multiple types of monitoring equipment and significantly reduces the overall costs of healthcare, for both patients and providers.
In an interview with MD Tech Review, Steven R. Peabody, CEO and Robert Buckley, Senior VP, Strategy, share their insights on VoCare's new device, the Vitals360, an all in one tool that improves efficiency, reduces readmissions, and increases patient satisfaction. The device is essentially a medical smartphone built on the Android platform. It allows patients to take their ECG, blood glucose, blood oxygen, blood pressure, weight, and temperature. Vitals360 wirelessly transmits the data into the VoCare cloud, which allows individuals such as doctors, health providers, payors, employers, patients, and family members to access that information and make decisions based on that information to deliver better health outcomes.
Could you elaborate on the vision of the company and the factors that led to the conception of VoCare?
As my parents were aging, the need for monitoring their health was continually rising. This is when I realized that the healthcare industry required better devices and solutions to enhance health outcomes. I founded VoCare in 2009 to offer connected multi-functional medical diagnostic solutions by partnering with providers and emerging technology companies. To meet the ever-changing needs of the medical community, such as data collection and reporting, we enable caregivers to deliver affordable solutions for post-discharge care, senior care, and chronic care management. Particularly, in Indiana, where our company is based, there are a lot of seasoned healthcare professionals who are continuously working to lower healthcare costs and drive health outcomes mainly for an aging population. To fulfill this need, we designed a special-purpose device, Vitals360, that would make it easy to read and aggregate all the patient's vitals and send it to the cloud.
This will enable doctors and users to monitor chronic conditions or multiple chronic conditions easily. Our mission is to seamlessly support providers with actionable patient data in a manner that will increase efficiencies, reduce errors, and improve patient care while lowering overall healthcare costs. With this collective vision, several of us came together and raised funds to create the world's first mobile professional-grade medical multi-diagnostic device, the Vitals360, which will be launched in the first quarter of 2020. The device will act as a portable doctor's office in the home that will promote healthier and longer lives, while also significantly lowering costs and reducing the mounting pressure on today's healthcare system.

What are the remote monitoring challenges that Vitals360 solves?

VoCare has been around for more than a decade, but the Vitals360 started development about 4 years ago. This six in one diagnostic device is essentially a smartphone built on the Android platform and is setting new standards for patient care. Fulfilling the data keeping and reporting needs, Vitals360 enables patients to measure important biometrics such as ECG, blood glucose, oxygen, pressure, weight, and temperature. The patient data is automatically uploaded after every use into the heavily compliant VoCare cloud via 4G cellular and wifi connectivity, unlike other medical devices that require manual entry of data. For maximum versatility, Vitals360 is equipped with three distinctive modes; single test, point of care, and remote patient monitoring. Single test mode mimics standard medical devices and enables physicians to use the Vitals360 as a handy multi diagnostic device without patient registration for simple use. While the point of care mode can be used by the provider workforce caring for multiple patients. Vitals360 replace the need for numerous medical devices, making it ideal to use inside or outside the facility.

In remote patient monitoring mode, Vitals360 allows the patient to use the device on their own, remotely providing their overall health status to caregivers. Patients and doctors would no longer have to keep track of multiple devices or do manual logging of their vital information. Additionally, they can also use the video feature to conduct telehealth visits on the device. Since the product is designed with maximum flexibility, it can be used anytime, anywhere in the world. Outside the US, around the globe, the use case is primarily point of care as the devices are expensive, and providers want Vitals360 to be used by more than one patient. However, in the US, it is primarily remote patient monitoring for patients with two or more chronic conditions.

What are the market opportunities that you have identified?

Our product is the first of its kind in the market and is well accepted in the clinical trials to date. From a distribution standpoint, we are primarily currently focused on the enterprise segment to supply the device to the these healthcare organizations to roll out their customer base. The critical feature set is that Vitals360 can capture data at anywhere from a particular cohort of the population, suffering from chronic illnesses, and then it can be sent anywhere for assessment. Vitals360 GPS location and time stamping provide a superior auto-trail for medical reimbursement and simple integration through open API to EMR or other systems of hospitals. For instance, Harris Healthcare, a software company focused on improving patient outcomes, plans to roll out the device to their chronic care population, at a relatively low cost in a simple way. The company can gather critical data from this group and use that data to drive better patient outcomes.

What are the next steps that VoCare will take in the near future?

The device and solution were designed for the US market in partnership with various healthcare experts and health insurance experts. However, we see significant demand from international regions, including Europe, India, South-east Asia, China, Canada, and the Middle- East. Due to the mobile connectivity, and cost of the device, Vitals360 is positioned to become the default solution for the remote patient monitoring space in the US. By partnering with the software firms that are already networked into the hospitals and payors, VoCare provides a one product solution to fulfill their data needs with Vitals360 data feeds into their EMRs or management tools. We are looking for FDA approvals, clinical trials, a few key partnerships, and US market launch in 2020. Once we have the professional device rolled out, we will have a lower cost version device for the general public to use in the future that will also drive down the cost of health self-management.